Birch Hill Hospital in Rochdale used to be a workhouse when it opened in 1877. It had wards for imbeciles in addition to an infirmary, before becoming a Hospital. I phoned it once to see if it had any data on my mother, as I'd no idea who she was. Its since been bought by Persimmon homes in the last few years, with 28 acres for £21.5 million. Another of the countries assets sold, the list of our assets gets shorter monthly. You don't give a country away whilst it's full of money or saleable items.
Back in March of 1958, my Father had been battling towards the hospital on his Francis Barnett Motorcycle, through heavy snow with a head on howling Easterly wind. Some time later I was waiting for a smack on my backside, to announce my arrival into this world, clasped by the ankles like a chicken. In 1937 Arthur Barnett died aged 74 and was superseded in the company by his son Eric who was killed by a lorry in 1953, and that was end of that line. Francis Barnett Coventry, formed in 2015 currently make the Batribike amongst other models. There is a chance my father wouldn't have made it on one of these.
Outside, anywhere daylight was available, lenses where trained towards the sun with the necessary heavy filtration on their lenses. Everyone was counting Sunspots and Flares, whilst reading some writings from Plato. Plato was a balding fellow that wore a robe like he was just out of the bath, and wrote about everything and a bit more besides, around 350BC, when it was way hotter than today. His entire work is believed to have survived intact for over 2,400 years, a miracle no less.
Over the Midwifes shoulder high in the sky, a recurrent Nova RS Ophiuchi of the spectral type M2, was exploding and spilling gas into its small blue companion star in the Snake Charmer constellation, some 5,000 light years away. It was noticed by somebody in Florida called Cyrus, the light equivalent of 250 of our Suns. In 1967 Cyrus working on a hunch saw it again, but a difference in timezones meant somebody else received the recognition. It's carried on and shone its light in 1985, and 2006, around July the red giant which is as big as our Sun, settles down into a deep red glow, for a recharge. Having only really noticed recurring Nova's in 1933, there is much we don't know, so the world watches whilst the pendulum swings along the cycle.
         During 1957 and the beginning of 1958 we where going over the top of a rollercoaster in weather cycles and it was the big ending of a cycle that has continued in chunks of 11 years and 88 years… and here we where at the end of a section called cycle 19, the final big dipper, going over the top. Plato had said Gods had set the cycles going and they would last for ages and so they have, like a long stretched spring, stretching from then to right now. Close to the extremes at either end, Volcanoes erupt, Earthquakes rumble, Tornados blow and Forest fires rage, Floods erase and newborns arrive. Plato had called our Sun a Nova and had talked of mass coronal ejections that once stopped the earth and caused a flood,  some years before him on a cycle.
In 1957/58 Telegraph poles burst into flames all across Northern America, seriously affecting communications, from the activity the Sun was throwing at us from a record number of Sunspots that still stands today. The records may be broken at the end of the next cycle in 2046. In 1859 at the end of Cycle 11, fires broke out in the telegraph network across Northern America wiping a lot of it out, with telegraph operators receiving massive shocks at the terminals.
Four days of mainly anticyclonic weather affecting Ireland Scotland and England announced my arrival with months of high sunspots, Class X rockets and mass coronal ejections. Rockets are classed from A being the smallest followed by B,C,M and X. It explains why I like fireworks, loud bangs, and Iron. RS Ophiuchi was emitting Iron by the bucket load for my Birthday, with 13 of its electrons stripped, suggesting it had been heated to millions of degrees. It was travelling at 3000 kilometres a second.  That must have been a loud bang, but the Midwifes hand had already connected, and all they could hear was me in my birthday suite.
A switch was thrown in the science department, they needed further proof of cycles and Nova's and especially recurrent ones and quickly. A race was on to launch a Satellite, we see Nasa start up in 1958. Russian Sputnik1 was tracked by many, including a school in the UK who worked out that Sputnik was taking photographs of specific things on its orbit, while it had a chance. They even worked out how many shots it took as they could hear the data traffic. Explorer followed shortly after, it spent a lot of time over the Atlantic ridge where they found evidence that lined up with particular sun cycles.
Note the moments are in both directions and some have travelled far. The next race was for the moon for soil samples and evidence of Nova's. There is a difference between materials that come from volcanoes or from above. All that bubbling up the pipe leaves air and gas bubbles that we can see today in the selection of glass spherules amongst the 400gr of rocks and soil they brought back from the moon in the Apollo 12, 14, 16, and 17 missions. This is an original shot so its quite small.
From these they dated all the Cosmic and Volcanic Glass, which lined up with a few more Sun Cycles. They then went digging in old lakes like Windermere in the UK, and up in the Alps, and produced more graphs that line up with cycles. 2019 and  Solar Probe Parker is currently on its second orbit of the sun, during the seven year mission it will get to less than 4 million miles from the suns centre. Whilst action on the sun is currently low, any action visible like Coronal holes keep their shape longer, as they are not buffeted by anything around it, so it's a good time to study them.
Meanwhile back at home Plato said the extreme of the cycle is the busiest. At the moment its the deadly quite extreme at the bottom of the wave, and was for the whole of 2018. A total contrast to 1957/58.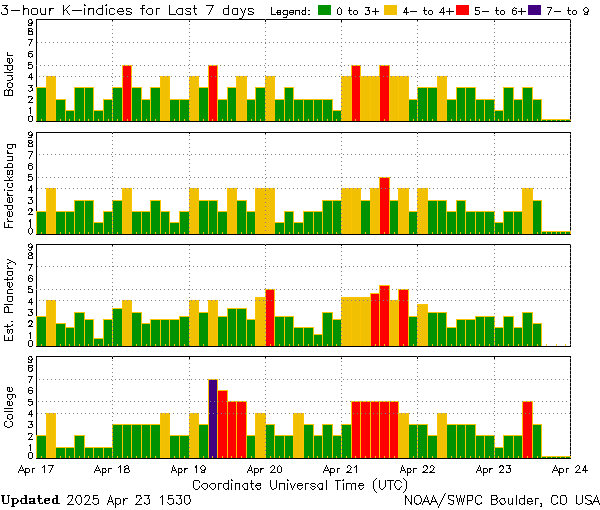 Very current KP activity above, a quite Sun day on the 30th.
While this has been so our magnetic system has been deviating so much, the GPS figures are now being monitored closely, as one Northern lobe has travelled quite quickly towards Siberia and its growing. The other lobe is over Canada and quite weak. Our magnetic North used by GPS taken from an average between the two lobes, has moved to the right. if we start a war tomorrow, missile systems could be inaccurate by lunchtime. Since 1980 its been moving at 30 miles per year after hardly moving at all for ages. The next official update was for 2020, but US military had requested an update over Christmas but the current shutdown of the Government is delaying it. Currently any missile launch couldn't be guaranteed for accuracy.
Today NMP 86.4°N 175.3°E
1960  NMP 75.3°N 101.0°W
It's possible we are close to a Pole swap. It's possible they can happen very quickly. What happens in them we really don't know. Worst case scenario it's possible all our sensitive volcanoes all blow at once. Earthquakes become two a penny. The resulting dust cloud would kill most of us and nigh on everything else as it would be freezing cold for years. Maybe the globe turns over 90 degrees so the poles end up on the equator, which could explain a big flood and a load of mud. Maybe only the pigeons get lost and crash into unexpected things like Pyramids and Skyscrapers but some survive, sea shells on the other hand start spiralling in the other direction making it impossible for them to mate with the other spiral, so they all die off quite quickly and is possibly seen in the fossil records.
We've looked around the world for evidence of other events that have happened quickly. Lake Titicaca on the border of Peru and Bolivia has millions of fossilised sea shells two miles above sea level. The change happened so quickly they couldn't adapt and died in their millions, yet this is the only freshwater place in the world, that Sea Horses live in.  The ancient city of Tiahuanaco 13 miles away in Bolivia has ancient docks and a wharf and is even higher than the lake. All around evidence of a culture long forgotten can be seen in megalith constructions that live in the area, with some stones at over 80 metric tons. It is possible they built them so hefty in the hope of surviving Earthquakes which where more common then. If the Mayan calendar proves to be prophetic, then cosmic disturbance and nigh on total annihilation is a regular and predictable occurrence because it's on a cycle, so they could easily predict that life 7000 years from then would roughly be the same. Some have survived these cosmic slaughters but not them, as they didn't see their own demise coming, as it happened so quickly, possibly in a Pole swap during the quite period of a cycle. One of their 7000 year cycles ended in 2012. Everything was supposed to be reborn on a new day with all the ingredients coming from the Sun. People around the world stocked up on tinned ham on the day before, just in case, but nothing happened that we noticed. The end of another cycle is in 2046, it's another big dipper and tins of ham will probably cost a fortune.